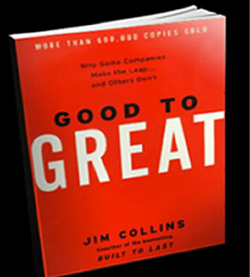 Hay organizaciones que son buenas, y hay otras que son grandiosas. En su libro "Good to Great", Jim Collins da 7 factores para ir de Bueno a Grandioso.
Nuestros amigos en la Cumbre de Liderazgo de México estaban ofreciendo el resumen del libro en un e-book gratis en PDF, pero la oferta ya no esta disponible. Sin embargo, en el libro, descubrirás los 7 factores que Jim dice hace la diferencia en las organizaciones y pueden hacer la diferencia en tu ministerio.
Puedes conseguir Good to Great gratis en audio si te suscribes a una prueba del servicio de Audible. La prueba es gratis por un mes, y puedes descargar un libro durante el primer mes. Si quieres oír (en ingles) el libro, lo puedes descargar aquí (enlace afiliado).
Descarga Resumen de "Good to Great" en español
Si prefieres leerlo un resumen del libro en español, esta disponible en Amazon Kindle en español.
También, el libro completo esta disponible en ingles.